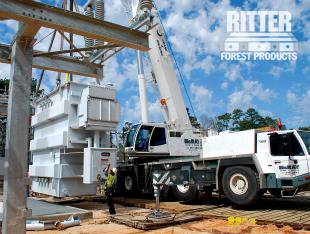 If you've ever worked on a construction site, then you already know how imperative it is to have the right tools and equipment at your disposal. You also know that mats to support and stabilize your industrial machinery are one of the most crucial of those tools to increase the safety and efficiency of your project.
With so many different types of construction mats out there though, how are you supposed to know which one will work best for your worksite? We've put together an overview of your options to help!
Laminated Mats
Laminated mats are thinner, more lightweight, and easier to move around than your other mat choices. They're ideal for supporting lighter loads on standard construction sites, as well as for use as temporary roadways. Laminated mats are also environmentally friendly, making them a good option for protecting area plant and wildlife or if you simply want to make your project more sustainable.
Dragline/Digging Mats
Dragline and digging mats are particularly effective at distributing the weight of your machines to protect the ground you're working on. They're good stabilizers for projects using large track equipment, excavators, off-road equipment, and pipeline projects.
Transition Mats
When you're using thick construction mats for your project and moving heavier loads, transition mats provide the upward angle you need to get your load from the ground up onto the mat without putting too much stress on your tires. Transition mats are used frequently at civil construction worksites, for oversized loads in need of outrigging pads, and in situations where you need to climb or otherwise switch elevations with machinery.
Crane Mats
Last, but not least, we have hardwood crane mats. These mats are designed for heavy duty jobs, providing stability for various types of projects. Their versatility and durability make them easy to reuse for other projects. You may also place crane mats together to create a temporary roadway.
No matter how many, what size, or which type of mats you require to maximize the safety and productivity of your construction site, Ritter Forest Products has you covered. Our inventory includes all of the mats listed above and more, available for rental or to be purchased new or used.
For more information on our products and delivery services, contact your local office today!