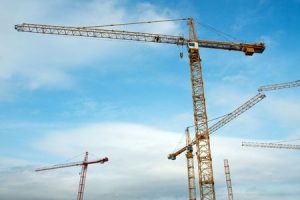 Did you know that four of the nation's five fastest-growing cities are located in Texas? The Lone Star state has grown at a remarkable pace in recent years, thanks to a combination of factors including affordable housing markets, high-paying jobs and low tax burdens. You can see signs of this growth spurt in communities throughout the state, but it's particularly evident in the skies over Dallas.
That's because Dallas-Fort Worth is currently home to more tower cranes than any other metropolitan area in the country. As of September 2017, there were an estimated 105 tower cranes reshaping the city's skyline with a variety of high-profile construction projects. Just 8 months earlier in January 2017, there were an estimated 87 tower cranes in the area.
In fact, tower cranes have been in such high demand that many construction companies are waiting months to reserve them. This suggests that the Dallas-Fort Worth area's rapid expansion isn't going to slow down anytime soon.
Theses massive cranes aren't just indispensable construction tools; they're iconic symbols of Texas's ongoing growth and development. Here at Ritter Forest, we're proud to have the opportunity contribute to this booming industry by providing construction companies with the crane mats and pipeline skids they need to keep cranes stable and secure on rough terrain.
For more information, feel free to give us a call at any of our six convenient locations to speak with a representative near you.