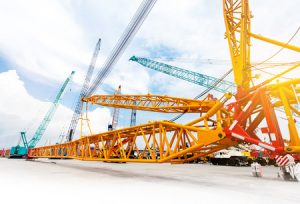 Construction on the future home of the Texas Rangers reached an important milestone last month, when the largest American-made conventional crawler crane ever built was erected in the infield of Globe Life Field.
The Manitowac 31,000—a crane weighing 3,000 tons that is capable of lifting 5 million pounds—will be tasked with installing the new stadium's retractable roof over the course of the next year.
The crane's components were transported to the stadium on about 150 trucks over a two-week period. Once all the pieces were in place, two smaller cranes were needed to assemble the Manitowac 31,000 before it could become operational. Prior to its arrival in Arlington, the crane was used in the construction of Mercedes-Benz Stadium in Atlanta as well.
Now that the concrete on the stadium's main concourse has been poured, the Manitowac 31,000 is ready to begin work on the vertical components of the stadium. Despite delays caused by rains in September and October, progress on the stadium remains on track for a grand opening in March of 2020. To learn more about the Manitowac 31,000 and see the crane in action, you can visit the company's website here.
At Ritter Forest Products, we're proud to provide construction companies in our area with the crane mats, skids, timbers and outrigger pads they need to complete complex jobs safely and efficiently. To learn more about all the products we offer, feel free to give us a call or contact us online today!