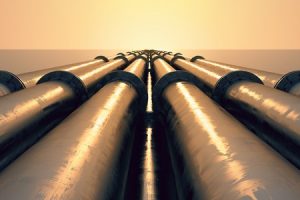 Crude oil production is booming in the Permian Basin, but the region's limited pipeline infrastructure is having trouble keeping up with the increased output. Within the next couple of years, however, a number of new pipelines are slated to begin carrying oil from the Permian Basin to refineries on the Gulf Coast.
One of these pipelines—which is being constructed in a joint effort between Energy Trade Partners, Magellan Midstream Partners, MPLX and the Delek Group—is expected to be operational in mid-2020. This pipeline will stretch 600 miles across Texas from the Permian Basin to Houston.
Meanwhile, Exxon Mobil has partnered with All American Pipelines of Houston to build its own pipeline connecting refineries to the rich oil fields in West Texas. A third 400-mile pipeline connecting Houston to the Permian Basin was recently completed by Enterprise Products Partners as well.
Earlier this month, the developer of the Keystone XL oil pipeline also announced plans to begin construction next year. Once complete, this massive pipeline extension will connect to the original Keystone Pipeline and carry up to 830,000 barrels of crude oil per day from Canada to refineries on the Texas Gulf Coast.
Here at Ritter Forest Products, we're dedicated to providing energy companies and construction crews with the crane mats and pipeline skids they need to get the job done right. To find the equipment you need for your next project, feel free to give us a call or contact us online today.