After a long winter, it's finally time for construction companies all across the country to get back to work. With the snow and cold moving out, contractors are moving in, taking to building roads, buildings and more throughout the spring season. Is your team ready to get back to work?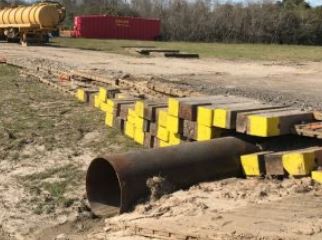 Part of working with the heavy equipment needed on most construction sites is having stable surfaces to work on. With the wet weather and snow melt of spring, sometimes the ground isn't always stable. Fortunately, crane mats, laminated mats and other mats from Ritter Forest Products are purpose-built to support heavy-duty equipment and keep everything stable and safe on any job site.
When doing construction, it's always a good idea to have crane mats or laminated mats on-site to help provide stability for your equipment. Muddy or soft soil can move beneath large machinery, potentially leading to damage to equipment or injuries to your workers. Thawing frost, rain and melting snow can also lead to heaving soil that creates uneven surfaces, and crane mats can level this terrain to provide a flat and even surface for your team to work.
The last thing you want to have happen this spring is to start a construction project and then have to delay it due to a mishap with your equipment or an accident on site. It doesn't matter if you're laying down a road, building a bridge, dredging a waterway, or doing some other kind of work that requires heavy equipment. You should make arrangements to rent crane mats, laminated mats, or whatever other kind of mats you need to get the job done safely and securely.
Ritter Forest Products offers a wide range of crane and construction mats and can provide rapid shipping to anywhere in the country from our five convenient locations. Let us help you get the supplies you need for your spring construction projects. Learn more by calling us today at 800-426-9570 or request a quote online now.