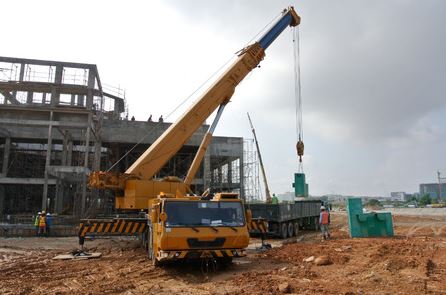 Cranes are one of the last things in the world that you want to be unstable, which is why whenever you're operating one, it's important for you to keep it on level ground at all times. You also need to carefully consider what you are picking up with it and how you are going to get it from point A to point B as safely as possible.
However, once the crane is in place, it's important to continue thinking about safety. As CraneAccidents.com shows, crane overturns do happen, and in many cases and the cause isn't an issue with safety equipment, but instead the weather conditions – most notably, wind.
Whenever you're operating a crane in high winds, it's important to be especially careful when operating a crane in windy conditions. If you can, you should put off using a crane when it gets windy out, since the wind can make life very difficult on crane operators and put those on job sites in danger. Wind can pick up or swing items being lifted or exert force upon crane structures unexpectedly, making an already difficult job even more harrowing.
The best course of action is to shut down operations in this kind of inclement weather, but sometimes that isn't immediately possible. If you must use a crane in heavy winds or suspect that bad weather may be experienced while on site, you should make sure to know your crane's limits and ensure that it's securely placed. Outrigger mats are an essential part of this and can help provide footing for the crane's support structures. These mats are versatile and can be used on solid terrain or in muddy or soft ground conditions. Paired with crane mats, you can help keep your crane stable in nearly any situation, protecting property and lived in even the most severe weather.
Ritter Forest Products offers a large selection of crane mats and outrigger pads for those who use cranes on their job sites on a regular basis. These products can come in handy at any time of the year, but with severe weather and soggy ground conditions across the nation as we head into spring, they're even more important during these months. Our sturdy and reliable mats can help keep you and your crew safe and allow you to use your cranes in just about any weather.
To learn more about our available mats, call us today at 800-426-9570 or request a quote for mats online now.