If you operate cranes or other pieces of heavy equipment, it's important to make sure they're as stable as possible at any time of the year. During the spring, it can be especially difficult to stabilize your machinery during snow melt and heavy rains that leave the ground almost always wet. This the wet ground can create muddy and soft soil, leading to problems for those on construction sites who are in charge of maintaining a safe environment.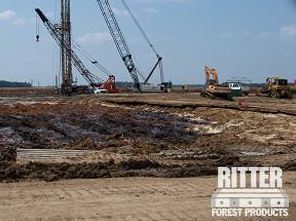 Fortunately, there's a very simple solution for those who rely on cranes and other heavy equipment during the springtime. Crane mats can be placed on any job site to provide stable platforms for heavy machinery and to make it safer for everyone. Rather than trying to navigate over mud, puddles and across other slick or unstable surfaces, you can allow your heavy equipment operators to drive on and over the crane mats, preventing them from slipping and sliding all over the place.
With crane mats, you'll get a heavy-duty solution that will make your weather worries nothing to worry about. You can shake off the snow, rain and other forms of precipitation that fall throughout the spring months and know that your equipment is always stable and performing properly on stable ground. You won't have to call off a job because of ground conditions, and instead can keep on working, ensuring your project is done safely and on time.
Ritter Forest Products provides a large selection of new and used crane mats for companies across the nation. We offer crane mat rentals as well as new and used mat sales, and offer mats in a range of sizes, from 12-­foot lengths to 30-foot mats. For job sites that rely on track equipment, we also carry dragline mats that are ideal for keeping these machines stable across any terrain conditions – perfect for excavators, off-road equipment and other machinery.
Learn more about our full range of mats today by giving us a call at 800-426-9570 or request a quote online now.