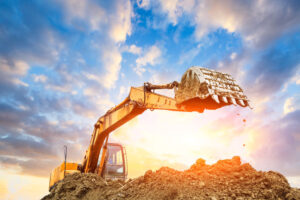 Any time you're working with industrial machinery, you should be using crane mats. Without mats, cranes, loaders, and other heavy construction equipment can damage the ground, surrounding surface environment, utilities underneath, or be damaged themselves and more likely to cause injury. When it comes to choosing the right mats for your project, the size of the equipment you're using is one of the most important factors in selecting the best option.
The size and weight of heavy machinery varies greatly from rig to rig, and plays a vital role in determining which mat will be most efficient for your operation.
Two cranes that occupy the same amount of space may be drastically different weights, for example, meaning that the lighter crane will not need a mat with as large of a surface area as the heavier one. More weight requires more surface area for even distribution, thus heavier cranes require larger mats.
You should also take into account the expected weight loads that your crane will need to handle when calculating the size of the mats you will need.
For instance, if you will be moving small trees, lifting light piping, or performing minor earthmoving operations, you won't be adding as much stress to the mat platform as with heavy construction work. In these situations, hardwood crane mats can provide the ground protection, stabilization, and support necessary.
If you will be carrying much heavier loads, such as greater amounts of pipeline or other industrial equipment that needs to be moved, you may need something stronger than standard hardwood mats. Outrigger pads, dragline mats, or pipeline skids will be more effective for these types of loads, and for heavier machinery in general such as excavators and track equipment. Estimate your intended crane operation, and be sure to take that into account when planning out your crane mat needs.
At Ritter Forest Products, our new, used, and rentable crane mats are built with the most durable hardwood and available in a wide range of standard and custom sizes. We can help you determine what size mats your project requires and provide as many as you need. We also offer various types of mats for heavier loads, including outrigger pads, dragline mats, and more.
Contact our team today for more information about our products or for help finding the right solution for your next project!